How do you wash your dishes?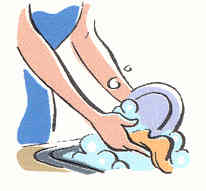 Philippines
March 21, 2007 10:01am CST
I went to my friend's apartment earlier today. After we ate some pineapple pies, she took all the used dishes (including spoons, forks, glasses,etc) into a pale. THen she poured out some hot water in it. I was amazed by that. I asked her if it's her way of washing her dishes. She said yes. She explained to me the process. Once the hot water becomes a little colder, she would then soap the dishes and then wash it through the water from the faucet. After that, she'll pour another hot water. She wanted to make sure that it's really clean. Truly I was amazed on this procedure because all we do when we wash our dishes at home is just put some soap on it, then wash it directly with water. Is this how you also wash your dishes? Or do you have any other way like what my friend doeS?:)
6 responses

• United States
21 Mar 07
my mother taught me when I was little to stop water from leaving the sink and run warm/hot water and add soap..then wash them all putting them back into the sink..then rinse them and put them in the rack..but I do mine differently..I just add soap to my sponge and wash/rinse them while the water is still running..it seems to save more time..

• Philippines
21 Mar 07
I agree. Our procedure saves more time than putting hot or warm water in it especially if we're in a hurry. BUt we can somehow take time to do that once in a while if not everyday, right? I'd like to try what my friend has been doing whenever I'm not in a hurry for any appointments in that particular day. :) THanks for the response :)


• Singapore
21 Mar 07
Your friend is sure patient. I just soap them, and rinse them with water. Wipe them, store them. That's it.

•
21 Mar 07

What a lot of work just to do the dishes. I stick them in the sink, turn on the hot water, add the soap, wash the dishes and that's it.

• United States
23 Mar 07
I used to have a dishwasher when we lived in my apartment and I would put my dishes in their if I had a lot of dishes to do.I usually would run warm water from the faucet and wash my dishes with a dishcloth and dishliquid with the warm to hot water still running.The funniest thing is when I moved to are house we rent I missed my dishwasher.I still clean my dishes the same way if their isnt alot to do.I sometimes wash dishes throughout the day so they do not add up to alot to do later.But if I have alot I run warm to hot water in the sink and let my dishes soak in the water and dishliquid until I get to them to wash them and then I run the water from the facuet to clean the dishliquid off.

• United States
25 Mar 07
I stop up the sink and squirt some soap in, then start filling with water. The other sink gets filled with water to rinse. I do this to save water, but it's good because I can let things soak while I'm working on less dirty dishes. For instance, I'll put the lasagne casserole at the bottom since it's got stuff baked on to it, and then it soaks while my hands are busy washing the silverware and glasses. I can't wait until I move into a place with a dishwasher. I never really realized what a luxury it is until I moved away from home!