Are you jewellery person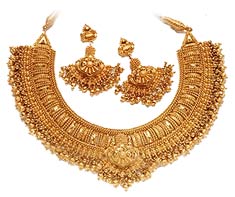 United States
8 responses


• United States
22 Mar 07
The only jewelry I wear is my wedding ring. LOL I have jewelry.......just never think to put it on. Also,I'm allergic to a lot of it so even if I do put it on, unless it's beaded and the clasp is a string tie, it's likely that I'll have a painful rash....even 24k gold does this. The only reason my wedding ring doesn't bother me is that my hands are very rough from years of waiting tables and having them in bleach water. I wonder if I'll still be able to wear it when I stop doing that kind of work one day?

•
21 Mar 07
i like ring and braclets but not neclaces much,dont buy them get them as a presents

• Philippines
21 Mar 07
I like silver, surgical stainless steel, white gold, and platinum.. The only necklace that I wear even if I have other necklaces is this white gold necklace my mum gave me when I was in medical school.. It has a heart pendant with a yellow gold star on it.. She said that it means I'm the star of her heart, thats why I wear it all the time.. And I also have this silver medical ID bracelet which I do not remove from my wrist even if I'm taking a bath.. It was a gift from my parents.. And of course, my wedding ring.. It's just stuck on my left ring finger.. I have other pieces of jewelry but these that I've mentioned are my favorites..


•
21 Mar 07
All my jewellery is silver and either jet or obsidian. I love black gemstones set in silver and although I currently only have five rings on, I often wear a lot more. I have a silver and jet necklace and earrings that my partner bought me for my birthday

•
21 Mar 07
I do wear jewelry. I usually have wear 5 rings which include my wedding rings. I also wear 2 bracelets every day. It depends on my mood as to whether or not I wear earrings. I get a lot of my jewelry online. I bought alot from QVC in the past. Otherwise, I buy from Skye Jewelry.

• United States
21 Mar 07
I prefer silver and white gold. I like to wear alot of rings I am up to 8 rings now! I bought all my rings from AVON. They have sterling silver ones in there book and they are pretty reasonably priced. I also have diamond studs for my ears.