father or mother??knows more in terms of discipline their child?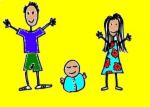 Philippines
March 21, 2007 10:14pm CST
Im my case..my father gives more discipline to us.But I still don't pay more attention to my father when he is scolding me or giving a disciplinary action..I am more worry if my mother scold me.. why does I feel that way?? does my mom know more how to discipline a child??
No responses