What do you think about Bob Woolmer's Death?

India
6 responses

• India
31 Mar 07
Murder only because he has the sign of fingers in his neck, he had vomitted before dying. thanks.

• India
30 Mar 07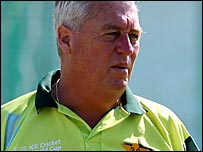 its for sure that he has been murdered and we need to wait and watch who has done it, its a shameful act in the world of cricket......


• India
26 Mar 07
I feel he was murdered by the Pakistani team.

• India
24 Mar 07
initially i thought it was a mishap but now it is a crystal clear story that he was murdered.and bookies have a role to play in this.

• India
22 Mar 07
till now all have only guess no one is sure about what happened to him but all sources says that it is a murder and this is a mystery that immediate after the exit of Pakistan from world cup what happened to him just wait for the time what investigation will comes out