Chocolate is good for you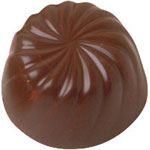 March 22, 2007 9:25am CST
Chocolate is good for you ... Recent research from Italy suggests that chocolate can lower blood pressure, neutralise free radicals and boost the body's ability to metabolise sugar. However scientists pointed out that the effects were only found in dark chocolate and warned that anyone seeking to boost their health through chocolate should make alterations in their diet to counter the additional calories. Just another reason to eat it!!!
2 responses

•
22 Mar 07
I'll have to eat more dark chocolate then I love milk chocolate too though so it is a shame. I'd heard chocolate was good for you before as long you eat it in moderation, I hadn't heard dark chocolate was better though.

•
22 Mar 07
well now you know and will have to eat a bit more of the dark stuff LOL :D

• United States
27 Mar 07
I have also heard that dark chocolates contain antioxidants, which help protect the body's cells. What about the calories in chocolate though? Do these supposed benefits outweigh the the negative parts of consuming chocolate? Also, does anyone know the suggested serving amount that you should consume to help your health?