Would you pick up a stranger with a "Will Work For Food" sign?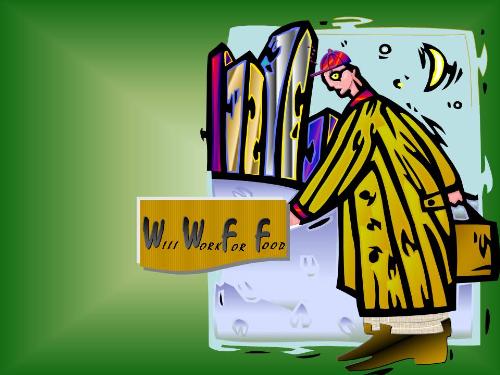 United States
March 22, 2007 7:09pm CST
Let's say you had a few 'odd-jobs' that needed doing around the house, and you just haven't had time to get to them yourself. Here's this guy, looks to be in his 30's, a little 'scruffy', but not dressed in rags. He's holding up a sign which says" "Will Work For Food". Do you stop & take him back to your house to do some work, while you fix him a meal? Does anyone do that?
2 responses

• United States
23 Mar 07
To tell you the truth, I would never pick up any stranger for any reason. A lot of these people who are doing that kind of stuff have a lot of mental problems. I would only hire people that have been referred to me by people I know. I've also heard that most of the time these people won't work even if you did ask.

• United States
23 Mar 07
I dont think I'd do that, because I would be a little worried about him knowing where I live and stuff. But I might stop and give him a little money.