The Incredibles!!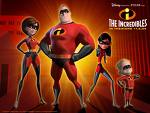 United States
March 23, 2007 1:59am CST
Think your family's weird? What if you were a young superhero and your mom, dad and the rest of your family all had superpowers? Wow, that would be....incredible! "The Incredibles" is one of the last few movies that released as a collaboration between Disney and Pixar--the successful duo behind "Finding Nemo", "Toy Story", "A Bug's Life" and "Monster's Inc."Unfortunately, Disney and Pixar parted ways, and since Disney owns the right to the characters, it will be some other computer animation company that will help Disney bring to life the sequels to "Monsters Inc." and "Finding Nemo". "The Incredibles" is looking, well, incredible. It features the voice talents of Craig T. Nelson, Samuel L. Jackson, Holly Hunter and Jason Lee.
1 response

• United States
23 Mar 07
my whole family really like this movie! i think my 12 year old watched 3 times before we returned the dvd. last Halloween there was a whole family that were dressed up just like the characters in the movie! it was very cute!