PTR program that rocks!!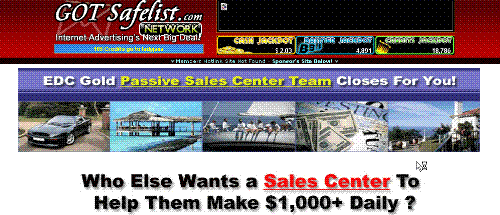 Malaysia
March 23, 2007 2:21am CST
Ok.. here I am.. and here's another PTR program for all you PTR fans.. This is the link to join http://gotsafelist.com/index.php?id=14242 Word of caution, you get TONNES and TONNES of email from them.. Each PTR email comes with a hotclick at the bottom. Each click would get you either 1. Banner credit 2. Credits that you can use to send you own email out to a safelist or convert to cash and 3. Hard Cold Cash The program is by no means a stingy one.. credits are not mere 1 or 2 points.. so far my minimum was 24points and my maximum was 987points. Referal gets you 2500 and they even reward active members with additional credits!! It pays by Paypal once you reach $50 Alright.. get set.. ready.. go!!!
1 response

• Egypt
23 Mar 07
Another paypal only site.. it won't work for me..