Russel Peters - Racism isn't always that bad, what do you think?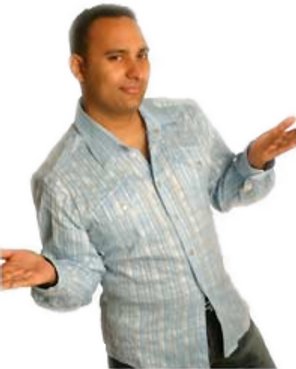 March 24, 2007 6:31am CST
For more info about Russel Peters, click on the image. I just saw Russel Peters' - Outsourced last night and I could've died out from laughing! He joked about Arabs,Indians,Muslims, Hindus, Jews, Asians, koreans, Afircans, and he did it in such a funny HARMELSS way that made me thinkof theose who really get annoyed of being picked on, joked on ie racist jokes nad wanted to KILL those who do. sensitive PEOPLE, why don't we lighten up a little? You know what? He is RIGHT! We come from a multi-cultural, Multi-linguel world and we dare NOT "speak" of eachother's religion, race customs etc face to face. We wait 'till the other group turns it's back and we joke about them. So our pretending doesn't get blown off. We have to be either be Europeanized, Americanized, modernized, any other -ized for the so called "first world" to accapt us. WHY IS THAT? Why can't we just be ourselves and be accepted as we are? This man, jokingly and humorly may be, has won my respect. And we must underatand that racism isn't always that BAD. Don't you agree? I come from a racist based community and I tell you racism isn't always bad as you think.
1 response

•
26 Mar 07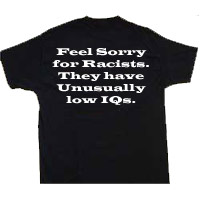 I couldn't have put it better myself. Russel Peters' is absolutely hillarious and he does it in complete style. It's true - there are some people out there who are just overly sensitive. I mean there's nothing wrong with that, but in this day and age, we all need to lighten up a little. We do live in a multi-cultural, multi-lingual world, and what's the point in living in this kind of an environment if we can't all joke, tease, take the mick out of each other without the term 'rasicm' coming into effect. I'm an Indian, who is British born, lived in the Middle East and went to uni in Canada. I have my 'british' friends, teasing me about my 'canadian/american' accent, and surprisingly, when I was out in Canada, they teased me about my 'brit accent'. Instead of speaking behind a person's back to make a joke, just say it while they're infront of you - you'd be surprised at how much they would probably agree with you and appreciate the joke itself. I don't get offended that people call me 'brown' or 'pak*i' or 'asian' .. why should I be? After all, I am 'brown and an asian' .. and as for being called 'pak*i' - I just laugh at the ignorance of the people who don't know the difference between an Indian and a Pakistani. We have the same skin colour, we just follow different religions that's all. So why take offence, we're both brown!*lol*(ok so maybe I can't joke like Russel Peters here, but I'm trying lol)

•
27 Mar 07
Thank you for your response. It seems you and I and one other guy who really know who Russel Peters is. lol!