money...money....money....look at the shiny Dollar!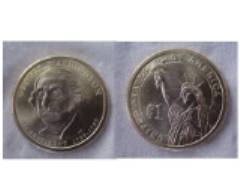 United States
March 24, 2007 3:05pm CST
I had to go to the bank today and I picked up a couple of the new Dollar Coins today. This is the first I have seen one. My hubby was with me and he said to take a close look at the coin. He asked me if I seen anything different about it. I looked it over and really wasn't noticing anything at first and then I said, "Oh neat, the words are printed along the edge of the coin", and I read them. He seemed shocked and took it from me and looked it over. Well it seems he had seen a post somewhere were a man said that the One nation under God wording was not on the new coin. It's there folks but you have to look for it. Printed along the edge of the coin is: E Pluribus Unum In God We Trust 2007 D I am sure it will be a P if printed in Philadelphia. So anyway I was excited because I found something before my husband did! LOL I think they look real nice but am not sure if I would want to receive a lot of them. What do you think of the new $ Coin?
No responses