Make Your Own Body Art!!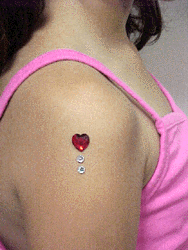 Australia
March 24, 2007 5:55pm CST
Make Your Own Body Art No more premade designs! Now you can decorate yourself with your own creative ideas. You need: Rhinestones Heart Gemstone or which ever one you like Body Art Adhesive Tweezers (optional) Instructions: Peel the backing paper from a sheet of body adhesive. Pick up a gemstone, rhinestone or piece of confetti using tweezers, if desired. Lay it on the body adhesive and lightly press to transfer the adhesive to the back. Pick up and press on to the body. Continue until your design is complete.
1 response