Are All Families Disfunctional In One Way Or Another?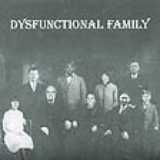 Canada
March 27, 2007 5:31pm CST
Nowa days its not all that uncommon to see disfunctional families weather its yell or fight and so on. Even my family is disfunctional but in the end of the day we all know we love eachother and thats all that matters to us! Do you know of a family like this or maybe yours is!
8 responses

• United States
28 Mar 07
Yes, part of my family is disfunctional. But it seems i stay clear of that part, its my cousins and aunt. I stay away from them and really dont deal with them unless its a holiday.

• Canada
3 Apr 07
I believe that all family are disfunctional to some extent how can they not be. Children growing up are feeling things for the first time in there lives on a daily basis and they all go through the peer pressure stage and the try anything to fit in stage and so one so how can you have a family without some disfunction i dont see where it is possible do you. I believe it is a normal part of the growing family concept and shouldnt be viewed as a problem of a certain population. Just my thoughts on it though.

• United States
1 Apr 07
I think all families are disfunctional. All to different degrees. Now if a family is disfunctional and fights but knows how much love there is in the family - then they are not doing to bad. I am glad your family can weather the storms and come out loving one another.

• United States
30 Mar 07
i think all families have their weird quorks one way or another, i mean we are all human and there is going to be friction some where along the line. My family is like yours, yes we may bicker and argue a little bit through out the day but we know if someone is in real trouble we have each others back.

• United States
29 Mar 07
I think most families have a little dysfunction in them. That's what keeps things hoppin'! A lot of people don't put a name to it, so they wouldn't think they were dysfunctional, but a lot truly fit the definition of the word.

• United States
27 Mar 07
yeah, pretty much some are 100x worse than others though


• United States
11 Apr 07
Yes, I am one that happens to think that every family is dysfunctional in some way or another. My own family does a lot of yelling. Don't ask me why, but we do. We argue a lot and get on each others nerves constantly, but I really wouldn't have it any other way. "If we aren't fighting we're dying", as someone famous said sometime long ago. ;0)