"my cat knows when im having the blues..."

Philippines
4 responses

• Turkey
28 Mar 07
One of my cats knows when I'm feeling a little down, he'll always come and sit with me, purr and pummel my lap, my shoulder or my leg whichever is closest and available, this always makes me laugh, then he'll look at me and you can just see the smile on his face.

• India
28 Mar 07
My doggies never leave me when i'm alone at home. They just come and sit all around me and follow me whereever i go. I got a pretty big house so its like the pied piper and the rats. Where i go they follow. But i just love them so its no prob even when they get underfoot

•
28 Mar 07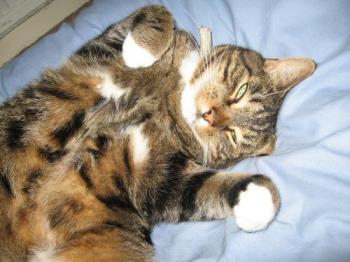 My lovely cat Moomin always knows when I'm down and low. She comes and sits with me, talks to me, plays with me and keeps me company. She always knows when I need a friend, when I need a cuddle and when I need her love.

• United States
28 Mar 07
cats are wonderful for that,aren't they? mine will sit next to me and lick my face,or purr. sometimes if that doesn't work,he flops down and rolls around until i laugh. they always know:)