Fried Rice.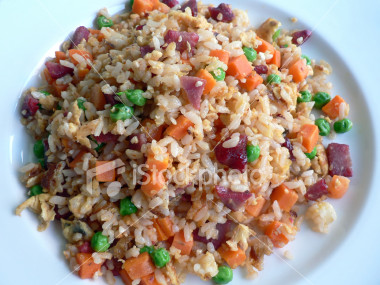 United States
March 28, 2007 5:00am CST
I have seen so many diffrent recipies to make really good fried rice. I am really in the mood for fried rice, and tonight I think im going to make fried rice, with chicken for dinner. Does anyone know of any really good recipies for fried rice. Also, what are some of your favorite things in fried rice??
1 response

• India
28 Mar 07
The perfectly complimented by any Chinese dish, this Mixed Fried Rice is complete on its own too. A delicious way to serve rice to kids who have to be tempted into eating wholesome food. If prepared carefully, it can be a source of compliments everytime you serve it! Ingredients 6 cups boiled Basmati rice 1/2 cup chicken (boiled and shredded) 1/2 cup prawns cooked 1 egg 1/4 cup capsicum cut into fine strips 1 cup regular onion, chopped fine 1 cup spring onions, chopped fine 2 tablespoons of ginger-garlic paste(or to taste) 1 cup of mixed vegetables, i.e. carrots, french beans, cabbage- chopped fine soya sauce chilli sauce Method Make sure the rice isn't overcooked or mushy. Add a little oil when boiling so that it doesn't stick together. Fry the regular onions till light brown. Add ginger-garlic paste and fry. Add the rice and fry with soya sauce to taste. You can add a little chilli sauce if you want. Lightly fry the pre-cooked meats with a little soya sauce. Beat the egg thoroughly and fry stirring constantly. Add to the rice. Lightly fry each vegetable (except the regular onions)separately. Do not over fry or the vegetables will become soggy. They should remain slightly crisp. Add the meats and vegetables and mix thoroughly. Your delicious meal is ready. Tip: If you find the quantities too much to work with at the same time, and you probably will, divide the rice into a manageable number of parts, say 6 parts. And then divide each of the other ingredients (i.e. the meats and vegetables) also into six. So you can fry the rice better and mixing becomes much easier with one part of each. Hope you like it.

• United States
28 Mar 07
Thanks!! I found one exactly like it on the internet a bit ago!! I cant wait to try it!