When your time is up...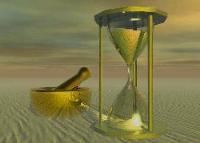 Namibia
October 18, 2006 11:12am CST
If you know that you are going to die and have only 24 hours left, what will you do with these last few hours???
2 responses


• Namibia
29 Oct 06
from all I read on your posts - I believe u r ready. But be careful not to wait so eagerly that you forget to enjoy the goodthings still left in this life. Love and peace

• Namibia
30 Oct 06
sad that no one wants to comment here, is the subject to heavy?

• United States
19 Oct 06
I would spend a lot of time making sure that everything was right with God. I wouldn't know how to say good-bye to my family. That would be very hard. I would eat a lot of chocolate. And I know I wouldn't be able to keep from thinking about things I wished I'd done and things I still wanted to do.

• Namibia
19 Oct 06
Yes - the soul part is important - to make sure you forgave all who did you wrong and have no enemies left. Family parting is the hardest part I think. Especialy if you have children. I love the idea of indulging - lots of chocolate - its good to love and treat youself. The things undone - I suppose regret is part of it all.