What is an IRON MAIDEN?

Portugal
4 responses


• Portugal
18 Oct 06
You are the winner. The question was "What is an Iron Maiden?" not "What is Iron Maiden?". Thank you all for yours answers.

• United States
19 Jan 07
wow, that is a brutal torture weapon. I had no idea that was what an Iron maiden was. That totally changes my look at the band, but the name is fitting since they are heavy metal.

• Canada
18 Oct 06
An Iron Maiden is a torture or BDSM device-it's essentially a metal casket or coffin with holes in it for poking the person within with spikes or other objects. (Kind of like the ol' swords throught the pretty magician's assistant trick.)

• Portugal
18 Oct 06
Thank you to you to. Good luck next time. I´ll post another ones like this.

• Indonesia
18 Oct 06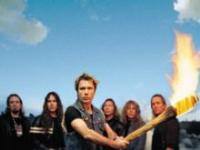 Iron Maiden are an English heavy metal band from East London. Formed in 1975 by bassist Steve Harris, previously of Gypsy's Kiss and Smiler, Maiden (as some fans affectionately refer to the group) are one of the most successful and influential bands in the heavy metal genre, selling over 70 million albums world-wide. Iron Maiden has so far released 14 studio albums, four 'best of' compilations, nine live albums, and four boxed sets. They won the Ivor Novello Award for international achievement in 2002 [2]. Iron Maiden's mascot, Eddie, is a perennial fixture in the band's horror-influenced album cover art, as well as in live shows. Eddie was originally drawn by Derek Riggs but has had various incarnations by Melvyn Grant. Eddie is also featured in a first-person shooter video game - Ed Hunter - as well as numerous books, graphic comics and band-related merchandise. The band has headlined several major events in its career, notably Rock In Rio, Ozzfest alongside Black Sabbath, Donington's famous "Monsters of Rock", "Download" Festivals and the "Reading and Leeds Festivals. Iron Maiden were ranked #24 in VH1's "100 Greatest Artists of Hard Rock" [3], and in Kerrang! magazine were ranked as the most important band of the last 25 years. They were ranked fourth on MTV's "Top 10 Greatest Heavy Metal Bands of All Time"

• Portugal
18 Oct 06
In part true but... Take a closer look to the question!

• India
22 Jan 07
It was considered a method of torture during the middle ages. Imagine a suit of armor that is hollow and hinged on one side so if you stood inside it it would close on you, then put spikes inside the suit on the door, insert body and close door. You are talking your head off before you even start to close the door......