Wo (Man)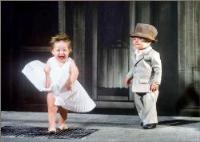 Namibia
October 18, 2006 11:25am CST
Are you happy with being the Man or Woman you are??? or would you prefer to be the opposite of what you are???
1 response

• United States
28 Oct 06
This is a cliche but, I wish I knew back then, what I know now. It would've been a bit different. My beliefs have changed from what I spent years learning in the churches. I kept the stuff that was true; but, had I known the rest of it, I probably would have studied to be a teacher. Instead, I concentrated on the"finding a husband to have kids with to settle down". This was like a rule, especially for women. But, even Christ told us that not all people were meant to be spouses with children. And, not everyone was meant to be single. It takes time to learn what you're good at or natural at; but, we have rules that stifle that individual freedom each soul was born with. Paul corrected Peter's teachings regarding this in Romans. They will be judging the character of the soul, not the food you ate, not the church you went to, not the clothes you have on. It takes patience to learn those things when you raise children. It's like when your child can't decide which hobby they like. They try them all until, their heart figures out what they get most excited about. Next thing you know they're excelling at it. It took time for my daughter to decide if she wanted to play music, be a cheerleader or be an artist. Well, she won a regional award for her artwork. She still like the cheering but, the instrument was just not her. She won't do well if I force her; nor, would she be happy doing it. Now, few of us have time to do that. It's hard to dream when you worry about surviving. If it was just me, that's one thing; but, it isn't. And, believe it or not, you can tell the difference. How many orphans and divorces do we have? There are families that are very close. There families broken. The woman part, I'm happy about because, I also learned that being a woman was never a sin. Some of our boys are not going to like it when they face the Two Men Who will decide their characters. And, because two wrongs don't make a right; women will answer to our Mother, Who more than adores our Father. To clarify, She is The Virgin's Mother like Father is Abraham's Father. She is not The Spirit, He is His own individual. His form expands Infinity. The Family was His design. The Family are The Creators. The Spirit did that on purpose. He never intended control of all to lie within a single pair of hands, not even His own. Love is supposed to be our god. That's why Christ was willing to die without saving Himself from it. You cannot flip over the coin and make things peaceful. Vengeance tends to hurt the children. Father really does not like it when we hurt the babies. And, Mother has kept Her silence for a reason. The boys will be more surprised to learn that our Father has loved the same Woman His whole existence,...faithfully. And, They had a child, only one. He was immortal before He came here. The amount of patience and care The Creators put into all this is phenomenal. That's why They have the job. They keep Nature and The Spirit, Who brought love to life, healthy. Sin is when you hurt another with your words or actions. Harming another soul that was given, by The Creators, just as much right as you were. Sorry this is so long; but, I understood this question and why I no longer wish I had been born a man. Father knew what He was doing. He always does. He takes the most crap, though, and it isn't fair to Him. And, I adore Him. I thank our Lord for helping me know Him and my Mother for helping me trust Her Men. She does work here; but, we only get to see Her presence once a year,...when it snows. Father sends the rain. For me, it's like They're sending me a We're still here note. They are always trying to wash this planet, Their Son used His blood.

• Namibia
29 Oct 06
Sound like you find yourself and is content with who you are. But are you happy? Anyway - 100% for being a woman and wanting to be one.