Lifetime Food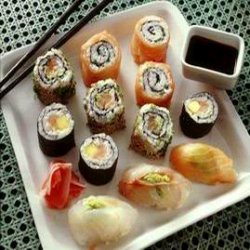 Philippines
March 29, 2007 12:39am CST
If there's one food you'll be eating 24/7 for the rest of your life, what will it be? Mine would definitely, 100%, absolutely be SUSHI.. It's my super favorite food in the whole world.. And the good thing about it is that it already has rice and a bit of other stuff in it.. It's a tiny complete meal..
9 responses

• Philippines
6 Apr 07
it's sushi for me too. any kind of sushi, maki or whatever thats rolled with rice and seaweed roller if available. plus, wasabi in sauce is a must! another food for a lifetime for me is breaded fried chicken with rice. just like sushi, i can eat it too 24/7.

• Canada
2 Apr 07
I think any food I would get sick of it even if I were eating it everyday ! I LOVE to eat something different every day! I can't satnd to eat left overs ...exept for a few exeptions .. Ne ways, that being said, if I had absolutly NO choice ...I think for me also it would be sushi ..I fond there are so many variety, always a new one to try! I LOVE sushi also ...but they would have to come from my favorite place calle : Aikawa ...hhmmm mouth watering just thinking about it ! hehehehehe

• Philippines
1 Apr 07
for me, i choose rice, i can't live without it. it's my main source of carbohydrates,aside from potatoes, bread, pasta and the like. any dish can be mixed with rice. it neutralizes salty and sour foods.

• Indonesia
31 Mar 07
The first time I know about sushi is in the 80s, when I was watching this movie, where a girl was eating some. A guy asked what sushi was and she said "raw fish". The guy's faced then went weird with disgust. I guess that notion stuck with me, but when my friend invited to eat sushi for lunch, I became hooked. The taste is so heavenly. Especially when you taste the wasabi and the sour ginger. yum. A life time of sushi meals? I wouldn't mind, but I would have it for dinner, then the rest of the meals would be other food from other countries like Indian food, Thai, Indonesian, etc. :D


• Singapore
29 Mar 07
Yeah, I'd love to have sushi again again and again for the rest of my life! :) So paradise would be a nice sushi buffet. Sushi is great because it's like a tiny wholesome bite sized meal. It's got protein (such as fish), then there's rice and then it's wrapped in seaweed (vegetable) and sometimes there's also wasabi which gives a nice 'hot' taste to the sushi. My favourites are the spicy salmon sushi, tamago and the eel. These should be paired with green tea.

• Bahrain
29 Mar 07
Pizza, Pizza, Pizza and Pizza! Why would anyone eat anything else is a mystery to me that will never be solved. Pizza is the one meal that has everything in. It's even pre-sliced so you know exactly how much to eat! In the morning, for lunch and for dinner.. Pizza!