Pomegranate And Almond Tartlets For Diabetics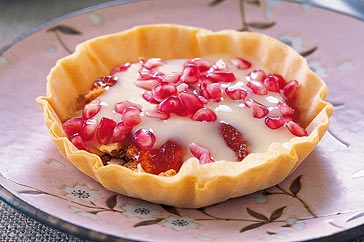 Australia
March 29, 2007 1:29pm CST
Preparation Time 15 minutes Cooking Time 10 minutes Ingredients (serves 8) 5 sheets filo pastry (Antoniou brand) 20g (1 tbs) reduced-fat dairy spread (Devondale brand), melted 45g (about 12) toscani almond Tuscan biscotti (Ital brand), finely chopped 2 tbs flaked almonds 100g rosewater-flavoured Turkish delight, cut into 1cm cubes 1/2 tsp ground cinnamon 250ml (1 cup) no-fat vanilla custard (Pauls brand) 1 (about 185g) pomegranate, halved, seeds removed and separated Method Preheat oven to 190°C. Place eight 2cm-deep, 8cm (top measurement) fluted tart tins with removable bases on a large baking tray. Lay filo on a clean work surface. Cover with a dry tea towel, then a damp tea towel (this will prevent it drying out). Brush 1 filo sheet with melted spread. Top with another filo sheet and brush with spread. Continue layering with remaining filo sheets and spread (brush top layer). Use a 10cm-diameter round pastry cutter to cut 8 discs from the filo stack. Place discs, brushed-side down, into tart tins, easing filo into the sides of the tins. Combine biscotti and almonds in a bowl. Spoon mixture evenly among tartlet cases and top with Turkish delight. Bake in preheated oven for 8 minutes or until pastry is golden. Remove from oven. Set aside for 30 minutes to cool. Sprinkle tartlets with cinnamon. Pour custard among tartlets and sprinkle with pomegranate seeds to serve.
3 responses

•
29 Mar 07
This sounds lovely pal but I don't buy pomegranates here as they are pretty expensive , I still love he recipe though , sounds really lovely , xx


• India
29 Mar 07
Thank you for providing a recipe for diabetic person .I have also something to share with you regarding diabetic people .Diabetic people can read what is a diabetes meal plan below --- A diabetes meal plan is a guide that tells you how much and what kinds of food you can choose to eat at meals and snack times. A good meal plan should fit in with our schedule and eating habits. The right meal plan will help you improve your blood glucose, blood pressure, and cholesterol numbers and also help keep your weight on track. Whether you need to lose weight or stay where you are, your meal plan can help. People with diabetes have to take extra care to make sure that their food is balanced with insulin and oral medications, and exercise to help manage their blood glucose levels. This might sound like a lot of work, but your doctor and/or dietitian can help you create a meal plan that is best for you. When you make healthy food choices, you will improve your overall health and you can even prevent complications such as heart disease, some cancers, and hypertension. There are many ways to help you follow your diabetes meal plan. Some ways are following the Food Guide Pyramid, Rating your Plate, Exchanges Lists, and Carbohydrate Counting. They are all different but hopefully one is right for you.