Are parents just too busy with their careers while neglecting their children?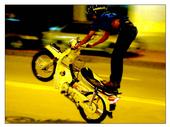 Malaysia
March 29, 2007 9:58pm CST
Parents are busy with their careers and are not able to spend quality time with their children. The result is that thousands of urban children are left in the care of their foreign maids, baby-sitters and relatives. This is the usual case that has been happening in Malaysia (mostly in the urban cities). A dilemma facing parents to day is how to strike a balance between their careers and nuturing their children, a task mde more complicated by demanding employers who make their staff stay back late or making the parents forced to bring work home just to finish the ever flowing work from the office. Children who return from school find themselves alone at home as both their parents are out of work. With negative peer pressure, there is an environment which will eventually lead to various social ills. How can parents make sure that their well-being of children to be inctact from being influence by all these negativities and at the same time performing well in their careers and work?
2 responses

• Malaysia
30 Mar 07
i agree with you, this happen in big town live that everyone just thinking about money, secondly parent just see and care their child score in school, they don't care about what happen to their child and what ever their child want they just give it. Parents don't have time to develope their clild personality so from where this poor child make their own personality? Of couse from their friend so this is very dengerous. If the child find good friend it's good, but what happen is their find bad personalty person as their friend? That what happen and always hear that all teenager that involve in crime is loaded with money and sometime they do the crime not for the money. They just want attention.

• Malaysia
30 Mar 07
More a time that we see of these problem kids always come from broken homes, lacked of attention and love fromboth of their parents. A strong family bond is important so that the children that we raised will grow up as a better person.

• United States
30 Mar 07
well we're not rich, unfortunately, but my husband makes enough money for me to stay home and take care of our kids. but i do agree with wut u're saying my husband and i decided why pay for a someone to raise our kids while i have to work, i'll basically be working to pay for day care.

• Malaysia
30 Mar 07
You are very lucky to have a husband who is so supportive. I believe that at least either one and the usual case is the wife to be staying at home and taking care of the kids. I also believe that parents have to spend more and more time with their children, to give them your love and support so as they will not starting to divert to other negative influence etc.