How to Make a Ruffled Jean Skirt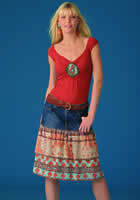 United States
March 30, 2007 8:59am CST
Hi I found a great way to recycle jeans and thought I would share the link with you so you can see the different pictures of what to do but here are the instructions. You will need: One pair of jeans Fabric(s) for the ruffle(s) – see instructions below to determine yardage Tape measure 1. Prepare Your Jeans Cut off the jeans legs, just above the crotch and just below the zipper. Be sure to push the pockets out of the way as you cut; they will still be usable if kept intact. Depending on the size and position of your jeans' back pockets, you may have to cut off the bottoms of the pockets. Don't worry about this, though – the pockets will get caught in a seam when the skirt is assembled. After cutting off the jeans legs you will be left with what look like a micro-micro-mini skirt, which will become the yoke of your ruffled skirt. Make note of the measurement around the lower edge of this yoke. TIP: If you are a truly ambitious recycler, consider sewing up a matching handbag from the cut-off jeans legs! 2. Cutting Fabric Ruffles Try on the yoke to determine your desired final length, and the number of ruffles you will want. Cut each fabric ruffle width to 1 1/2 times the yoke's lower edge measurement (for example, if the yoke measures 40 inches at the lower edge, the 1 1/2 times measurement will be 60 inches). Once you have determined the width measurement of each ruffle, divide this measurement in half, and add 1 1/4" to this measurement. Each ruffle will then have side seams, with 5/8" seam allowances. Cut each ruffle to the desired length, plus 1 1/2". 3. Assemble Fabric Ruffles Finish the lower edge of each ruffle with a narrow hem – turn up the edge 1/2" and press. Fold the raw edge under, until it meets the pressed-in crease. Machine-stitch close to the second folded edge; this will form a 1/4" wide top-stitched hem. Press. Stack ruffles one on top of the other, matching raw upper edges and side seams. If you have ruffles of different lengths, be sure to stack shorter ruffles on top of longer ruffles, as you want them to appear on your finished skirt. Pin all ruffles together at upper edge. Using a long machine stitch, sew a row of gathering stitches 1/2" from upper edge. Gently draw up the gathers, distributing the fullness evenly, so that the gathered edges measure the width of the lower edge of the yoke. Press gathers lightly to hold in place. 4. Finishing Your Skirt With RIGHT sides together and the side seams of the ruffles lining up with the side seams the jean yoke, pin the lower edge of the yoke to the upper edge of the gathered ruffles. Sew together in a 5/8" seam. Sew again 1/4" away from the seam, INSIDE the seam allowance. Turn the seam towards the jean yoke and press. On the OUTSIDE, top-stitch close to the seam allowance, using a thread that matches the top-stitching of the jeans. Here is the link: http://www.simplicity.com/index.cfm?page=section/classroom/sewprojects/ruffledjeanskirt/ruffledjeanskirt.html
7 responses

• United States
30 Mar 07
That is really a cute skirt. Thank you for sharing those instructions with us. I just love using recycled fabrics for projects.



• United States
30 Mar 07
lol, thx!!! do u know youtube! if u don't here's the website go check it out! www.youtube.com i was influence by his videos call thewinecone he is very funny he film 40 videos of himself and i don't even get tired of watching it! o and if u wana check out my video, it's superpan399! once again thx!

• United States
31 Mar 07
That is really cool and some very useful information. It is a lost art - to make your own clothing. One of my grandmothers passed away a little over a year ago and she made so many things! She made teddy bears, jean skirts, quilts, dolls... and they were of such high quality. I wish I had the knowledge to do all of that.

• United States
26 Oct 11
this is a good idea i have alot of old blue jeans that are either too short for me to wear or they just do not fit like i want them to anymore and i have to just give them away or throw them away i have them stored in the top of my closet right not for i am always looking for something to make out of them this would be a good rainy day project to do and it is very simple thank you for posting these directions on this discussion i found them to be very helpful because they are so descriptive happy sewing


• United States
30 Apr 07
Wow thanks! I have a few old pairs that I have not wanted to throuw out now I know what I am going to do with them! I love it thanks again!