New Alcohol aimed at Teens?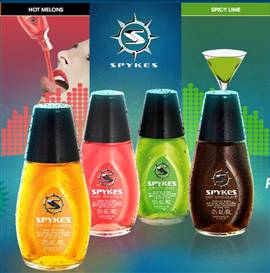 United States
March 30, 2007 3:06pm CST
There is a new alcoholic beverage out on the market called Spykes and critics charge it is aimed at teens. Is it? The folks at Anheuser-Busch have rolled out a new alcoholic beverage called Spykes. The malt beverage has a 12 proof alcohol content and comes in 2 ounce bottles shapped somewhat like nail polish bottles. The flavors available are mango, lime, melon and chocolate and they all come packed with a boost of caffine. Critics claim these drinks are geared specifically towards teens and encourages underage drinking. What do you think? Personally I don't see these to be geared specifically towards teens. One of the main arguments is that the bottle size fits perfectly into pockets and purses. *cough* Ahem, so does any shot bottle currently on the market. As for the drink flavors, well there has already been a craze for caffiene driven beverages and the flavors are reminiscent of the Pucker's Schnapps flavors. So I don't see this as being nescesarily geared towards teens. You can view the full article here: http://www.msnbc.msn.com/id/17862137/wid/11915773&GT1=9246
1 response


• United States
31 Mar 07
Exactly, these people are just looking for something to complain about. I wouldn't be surprised in the least to hear that some of these people are the ones that protested the use of Harry Potter books in the classroom. It's almost like people aren't happy unless they have something to gripe about. =( I am of the opinion that if teens want to drink they're going to find something to drink no matter waht. Whether it's some cheap keystone, Wild Irish Rose, Jose Cuevo or Spykes, if they can get their hands on it they're not going to be picky about it.