Toads the size of dogs!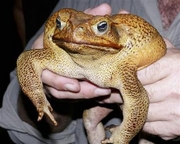 United States
March 30, 2007 8:11pm CST
A toad the size of a dog was found in Australia.They are cane toads and they are poisonous. They have been introduced to Australia many years ago to control cane beetles. This again shows what happens when people tamper with nature. Read the full story here. http://news.yahoo.com/s/nm/20070327/od_nm/australia_toads_odd_dc;_ylt=AmLDJd0FbJ8hPmV31qfsftgSH9EA
6 responses

• India
31 Mar 07
I have read that in yesterdays news paper and i find that interesting, i was just wondering is it a newly evolved species or a species that was evolved before but was never found. Actually most of the toads are poisonous so thats not a new feature in that giant toad. Anyway thanks for sharing such news here in mylot so that different people can express their views here.

• Australia
31 Mar 07
wow I never knew they 're native to Hawaii.

• United States
31 Mar 07
OK...quote..."We capture them, put them in plastic bags, freeze them and turn them into liquid fertilizer," That is just gross!!!! And if their skin is poisonous...why would one use it as fertilizer? Wouldn't there be some type of harm? I guess unless they are skinned before made into liquid fertilizer. But that would be even more gross!!! One more quote...sorry... "Cane toads were introduced from Hawaii in 1935 in a failed bid to control native cane beetles. There are now more than 200 million." OK, if it didn't work for a little speck of land in the middle of a whole bunch of water...it was not going to work in Australia either. Those toads are as big as my Little Lilly!!!

• Philippines
31 Mar 07
I think there are just there for the symbiotic reationship for the ecosystem but unless they are more thjan those toads that eat up the cane beetles.

• United States
3 Apr 07
Pretty scary what happens when man decides to take on God's role, as if we could it better. The reasoning behind it was sound enough. Bring in the toads to wipe out the beetles. Look into his farther, and see the dilemma. The beetles were there for a purpose, yes they may be considered a pest, yet they still have a purpose, now enter the toad. Introducing a non-native species to an area is always a problem. That species obviously had no purpose there, or it would have been there to begin with.

• Canada
3 Apr 07
Australia seems to really gotten its share of wild and wonderful animals introduced into their eco system. I have read of rabbit plagues, camels running wild and now poisonous toads as big as a dog. I will stay here in Canada. At least I know what I am dealing with.

• Australia
31 Mar 07
I like toads even though they're pests. It's terrible how people kill them with golf clubs and by runnng over them! I saw something on TV where a guy said he runs over them and they make a huge POP when they xplode :-)