What Age or Weight do you change the Carseat??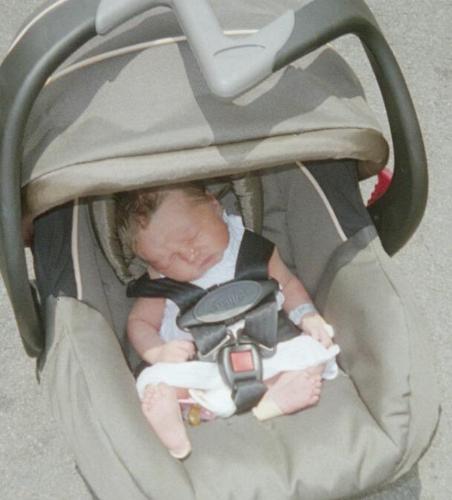 United States
7 responses

• United States
14 Apr 07
yes, i think 1 year old & 20 lbs. But for the safety of your little one you can keep him/her rearfaced as long as possible or as long as the carseat will be suitable for rearfacing (guessing 35 lbs). My son is in a carrier right now but i already have a convertible seat ready when he outgrows the carrier. It's britax convertible and i can rearface him up to when he is 33 lbs and then forward-face w/c can be used til he's 60 lbs.

•
13 Apr 07
We changed carseats at a year old approx. It depends on the carseat you want to change to, some are rear facing for longer. I think the weight was 9 kg/15 lbs approx.

• Netherlands
1 Apr 07
i think it's important to read the instructions of your seat! they tell you how old or how much weight it is! i'll wait untill my daughter can sit very well. right now she falls and isn't strong enough. she is still sitting in her maxicosi, but she is growing fast, so i need to change it anyway. Just make sure they sit straight up and there isn't a possibility they cannot breath well!

• United States
1 Apr 07
I think it depends on your state. If your in the U.s. I think Most states say the child needs to be 20 pounds and 1 year old. Even if they are 1, if they don't weight 20 pounds yet, it's not safe. I think it has something to do with thier bone density and thier ability to sustain a crash if they are forward facing. My oldest outgrew his infant carrier at 4 months or so (he was very big), and we had to transfer him to a bigger one that could go both ways until he was one, even though he weighed 20 pounds at 4 months. (: Also, I'm sure your state/country has information about your particular laws on line.

• Australia
31 Mar 07
It depends on the carseat. It should have come with a manual that gives all that information. In Australia, the general rule is rear-facing until 6 months or up to 9 kilos. Forward facing from then onwards. I personally would prefer to keep my child is rear facing for as long as possible. Check what is recommended for your brand of carseat though. They (should) have been manufactured to comply with whatever rules and regulations there are in your state.

• United States
31 Mar 07
You need to check the laws where you live to be sure but everywhere that I know of and all the seats I'm familiar with say that a baby MUST be at least one year AND MUST be at least 20 pounds. If your child doesn't meet BOTH requirements before growing out of the infant style seat, you will need to use a convertible car seat. These have a higher weight limit and can be used rear facing and forward facing.