Do you save your money in Bank???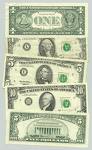 Indonesia
March 31, 2007 6:57am CST
That is not secure to save much money at house isn`t? if i have much money, i prefer to save my money in Bank. apart from that, i can be more frugal:D that is effective for me. or may be do you have any deposit?? wow it`s mean you can manage your finance well.
5 responses

• China
31 Mar 07
I save my money in bank of course.The society is too disordered.So I feel unsafe all the time when I am alone.I am even not dare to go out with 200 yuan.Once I get the paid every month,I would like to send it to bank immediataly,so that they can be in the safe situation.The money keep in the house is not safe too.

• Saudi Arabia
31 Mar 07
I prefer to save my money in the bank.. i actully have 2 accounts one for saving and the other one i spend from.. I believe it's better than having cash...

• Saudi Arabia
3 Apr 07
Thanks for the vote :) That was the only way for me to start saving.. and believe me if it worked with me it will work with you..

• India
2 Apr 07
yes, i reguraly save money in my avings account. It will help me lot.

• India
2 Apr 07
Yes i save my money for my future because you never know what stores in your future so its better to save it. I also deposit in bank.

• Turkey
31 Mar 07
I save some amount of my money in the bank and keep the other part in my house for my monthly or yearly needs.If I need more money than I keep in my house,I go to bank and withdraw some.In the past,I did bad things like I burst my money and gems into the ground somewhere I just know.Fortunately,Thanks to God,My money was there and nobody did realize that there were some burnt treasures.I was feeling silly and dump of me.Everynight,I said myself,how much I am stupid.Saving your earnings in the bank is obviously the most secure mode.