Chocolate Ricotta Pancakes With Hazelnut Sauce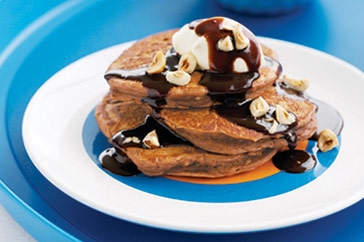 Australia
March 31, 2007 1:15pm CST
With Easter a week away, you need to get into chocolate training and these chocolate-flavoured pancakes smothered in chocolate-hazelnut sauce should improve your condition in no time. Preparation Time 20 minutes Cooking Time 40 minutes Ingredients (serves 6) Melted butter, to grease Double cream, to serve 1 x 100g pkt hazelnuts Chocolate ricotta pancakes 300g (2 cups) self-raising flour 30g (1/4 cup) cocoa powder 55g (1/4 cup) caster sugar 480g (2 cups) smooth ricotta 375ml (1 1/2 cups) milk 2 eggs, separated Hazelnut sauce 200g good-quality dark cooking chocolate, coarsely chopped 185ml (3/4 cup) thin cream 1 x 220g ctn Nutella chocolate hazelnut spread 60ml (1/4 cup) Frangelico liqueur Method Preheat oven to 200°C. Spread the hazelnuts over a baking tray. Cook for 10 minutes or until toasted. Remove from oven. Reduce heat to 100°C. Place hazelnuts on a clean tea towel and rub to remove skins. Coarsely chop. Meanwhile, to make the sauce, place chocolate and cream in a heatproof bowl over a saucepan of simmering water (make sure the bowl doesn't touch the water). Cook, stirring, until the chocolate melts. Add the Nutella and Frangelico and stir until heated through. Transfer to a jug. Place plastic wrap directly on the surface of the sauce and set aside until required. To make the pancakes, sift the flour and cocoa powder into a bowl. Add sugar and make a well in the centre. Whisk the ricotta, milk and egg yolks together in a bowl. Add the ricotta mixture to the flour mixture, stirring until smooth. Cover and set aside for 20 minutes to rest. Use an electric beater to whisk the egg whites in a clean, dry bowl until soft peaks form. Gently fold the egg whites into the pancake batter. Brush a non-stick frying pan with a little of the melted butter to lightly grease and heat over medium heat. Pour two 60ml (1/4-cup) quantities of batter into the pan, allowing room for spreading. Cook for 1-2 minutes or until bubbles appear on surface and pancakes are golden underneath. Turn and cook for a further 1 minute or until golden. Transfer to a heatproof plate and loosely cover with foil. Place in oven to keep warm. Repeat, in 8 more batches, with remaining melted butter and batter, reheating the pan between batches. Divide the pancakes among serving plates. Top with double cream and drizzle with hazelnut sauce. Sprinkle with hazelnuts to serve.
4 responses

• United States
1 Apr 07
Kathy you have to stop shareing all these goodies..I've gained weight this winter and I have good intentions to go easy on the goodies but then I see you sweet discussion...LOL....Thanks Honey...I'll be fat as a pig if I'm not careful but I'm gonna try it anyway Hugs Sweetie I hope things are well with you and yours

• Australia
3 Apr 07
Thanks again Raydene, I know what you mean we will all have to lose weight I did lose weight and am very happy that I was successful at doing this but now our weather has changed I shall have to be very careful not to put the weight back on again.

• Australia
1 Apr 07
Thank you for sharing this great reciple to us. I think i will try to mke it when i get time ,I like pancake and hazelbuts, a combination of pancakes and hazelnuts will make me addicted..lol.. I hope I can make the pancake like the one in the photo...yummy..


• United States
31 Mar 07
this sounds like something my husband would love..thanks for sharing