Movies that you stop what you are doing and 'have' to watch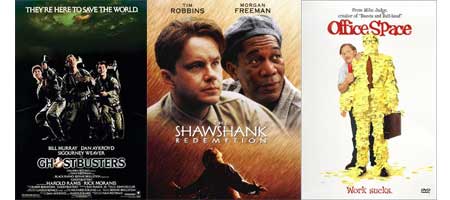 United States
April 1, 2007 1:50am CST
There you are taking care of household chores, buried in school work, or starting that report up for work that is need the next day with the TV on for some background noise. Then out of nowhere a movie comes on that you cannot 'not' watch. Sure you have it on DVD and can cite it word for word, but it is on now and it must be viewed. For me the movie is The Shawshank Redemption starring Tim Robbins and Morgan Freeman. What movies make you stop down put your current task, no matter how important, on the back burner?Ghostbusters and Office Space have this effect on me too.
2 responses

• United States
22 May 07
Anytime Ghostbusters or Ghostbusters II are playing I automaticly stop everything I'm doing. Everytime I watch those two movies it seems that there is a large charge that goes through my soul and pops me out of any slump.

• Sweden
3 Apr 07
for sure trilogies like matrix, lord of the rings, blade and other more really make me stop what i am doing at home and watch the film together with the family. i am so into movies with sequels... even harry potter and all. shawshank redemption is one movie which really moved me. at first i thought it's kinda boring, but it turned out to be one of my favorite films now.