Bathroom Idol!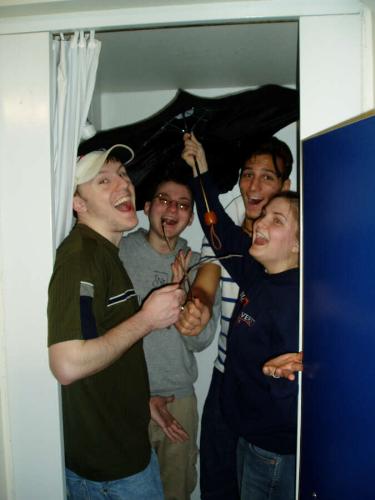 Malaysia
April 1, 2007 6:33am CST
Do you think you have what it takes to be a Bathroom Idol? The rules are as follows:- you don't have to sing in tune - you can do it in the nude if you want! - you can make up the lyrics - you be the judge!LOL. Seriously, i like to sing when i'm having my long shower. I hate to admit but my all time favorite song to sing while i'm in the shower is NSync's Bye! Bye! Bye! What's your song??
3 responses



• Canada
1 Apr 07
hey I used to sing in the shower but I can't even sing anymore, chronic bronchitis has left me without a voice.

•
1 Apr 07
LOL! I don't have a shower but I do sing in the bath and whilst doing the chores at home! My eldest son is in despair at the moment because I keep singing "My lovely lady lumps" by the black eyed peas! I don't particularly like it, but it is sooo funny watching his face as I dance round the living room singing it! Apparantly mums don't do that! And it's wrong!!!! Us mums gotta have a bit of fun somehow! Perhaps we could record an album! LOL

• Malaysia
1 Apr 07
LOL. And we can call you guys The Mummies! hahahaha... but yeah, i guess all moms do have to take a break and have fun for a while. Having fun while doing the work is not wrong hehehe, it's healthy. because you won't get stressed out easily. I'm not sure if your son get stressed with your singing though LOL