Decorated Denim Jeans Shorts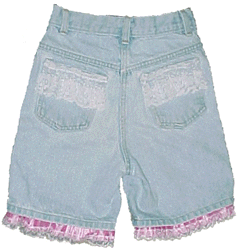 Australia
April 1, 2007 3:09pm CST
We gently removed the lace from any of our old clothes, curtains, or linens. Ages 7 and up. You need: Plain Denim Shorts 8" of 3" Lace for Pockets 3' of 2" Lace for legs No-Sew Fabric Glue Instructions:Wash and iron lace. Glue a piece of wide lace to the top each of each pocket of the shorts. Turn shorts inside-out. Run a bead of glue along a portion of the bottom of the leg. Press lace into place. Continue gluing and pressing lace into place until done.
7 responses

• United States
8 Apr 07
This does look Cool. I am sure if many people here would see this, they would be interested, and try doing this. This is a Great way to decorate and make your Shorts look more fancier.

• United States
4 Apr 07
My daughters have so many jeans that are too long for them. This would make a great excuse to cut them off this summer. I've been picking up lace and trim remnants so it should be easy to decorate. Thank you for sharing this fantastic idea!

•
2 Apr 07
Another brilliant tip my friend , when my 2 granddaughters were small I used to do this for them when denim shorts or a favourite skirt got too short , I used to get wide white broderie anglaise ( looked lovely on denim ) and sew that to the bottom , looked lovely and made them a bit longer too xxx


• United States
1 Apr 07
Kathy we also add peices of broken jewelry ...shiny stones etc around the pockets.Also if an old tshirt has a cute embriodered animal you cut it out and sew it to the back pockets. Thanks for the jean hints...We haven't used lace yet but I save it.If I'm throwing something away I strip it of any reuseable items..buttons,zippers,lace,trims,decals,if the fabric is thin is some spots but ok in other I will cut some squares for my crazy quilts and throw it in the bins for later use. oxoxo


• United States
26 Oct 11
i used to do this when i was a little child i still think it makes a cool project to do i just do not have that much time to dedicate to doing it anymore i used to use old pieces of scrap fabric that my grandmother had left over from making her quilts i have used fabric glue before and it works wonders i was amazed at how fast and strongly it held together i used to glue and sew the fabric onto shorts, jeans, shirts, i even decorated my dogs sweaters haha