what type of food you give to your pets?

Italy
7 responses

•
2 Apr 07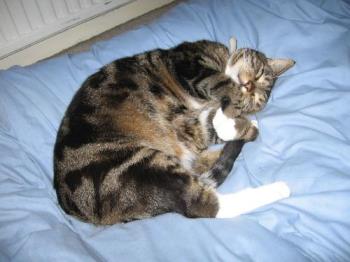 My lovely cat, Moomin, will only eat tuna and drinks milk or water. I do try to get her to eat other foods but she refuses them. Tuna is a good food for her though, and I know she is fit and healthy.

• India
2 Apr 07
We have two dogs and we generally gives them bread in chicken stew which makes them really healthy.

• Italy
9 Apr 07
I feed dry food. My cats prefer Purina Friskies. They are really wild for it and get always excited when it's time to eat. My dogs eat Farmina dry food which I find very good, even if it is not a brand that is widely known. Sometimes I give them canned meat, or fresh meat (boiled).

• United States
4 Apr 07
We use to feed our dogs Alpo can dog food but my 5 year old german shepard has gotten a little pudgy. So we talked to the vet, she told us to buy dry dog food that the first ingredient in wasn't a filler like corn. We now feed our dogs Beneful weight management.

• United States
2 Apr 07
We buy Special Kitty from WalMart in the large cans. We have 5 cat friends. We also augment their food with the food we cook for ourselves. I do believe that they also hunt outdoors. None of them are fat and yes they do put on weight for winter. They have good coats, great voices and am glad that they are part of my life. My Ozzie is sleeping here beside the computer and I have to use my optical mouse differently since Ozzie is hogging that spot. lol

• Poland
12 Apr 07
I take care of the feeding of my pets (rat + 2 cats). My rat gets dry rat food + some food I cook for myself (meat, vegetable, pasta, rice) and some fresh vegetable, cornflakes, dried bread. I observe how my rat"Szczurellka" looks and feels, and she keeps fit, so I hope I feed her properly:) My parents take care of our 2 cats, they give them dry cat food, and cat food from a can. Sometimes they give our cats some food from our meals, like meat or tuna or eggs.