Alarm clock issue

Philippines
April 3, 2007 5:53am CST
Alarm clocks doesn't work for me. I usually just press the snooze or stop button and hit the bed again. I wonder why, it seems I got used to doing that everytime it rings. Maybe they should invent a new alarm that really catches my attention. If you have this same problem, what would you recommend?
4 responses

• Japan
3 Apr 07
Oh there are many types of unique alarm clocks in the world. You just have to find them. The other day I found a clock that has a rotor blade kind of thing on top of it. What it does is, when the alarm clock rings, the blade is propelled and the flies off somewhere in the room. To shut off the alarm, you got to get out of bed and find that rotor blade and put it back on top of the alarm clock. I'm sure by the time you manage to get the blade in its proper place, you'll be wide awake. Ofcourse there's the easy way too. Get a few alarm clocks. Time them to ring a few seconds after each other. So say you bed side clock goes off first, then you have a clock near your bedroom door going off after 3 seconds. Then you got a clock in the hallway going off after another 3 seconds, and so on and so on. Maybe put the last one in the bathroom :D.

• Nigeria
3 Apr 07
I envy you your sound sleep. I wish I were in your situation. You probably need the alarm system that sounds at intervals of some number of minutes, if any. If none is available like that, try using multiple alarm clocks, set at some minutes' difference to one another. If you miss one, you might not miss the other(s).

•
3 Apr 07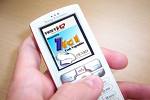 I always found alarm clocks useless, so now I use my mobile phone alarm. I set it to wake me up early and repeatedly use the snooze button. However, when I know its nearly time to get up I usually end up holding the phone and that gets me up, no problem, as I cannot get away from the thing!!

•
3 Apr 07

Check out the picture here, for the real reason why the clock doesn't work :-) I have to use two clocks, the first to wake me and the second to get me out of bed.