Regardless of what we think about Sanjaya....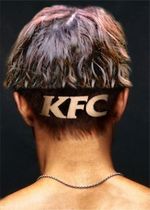 Malaysia
April 3, 2007 6:59am CST
Regardless of what we think about Sanjaya, apparently he is the only star in AI at the moment. Latest to worship him is KFC's president offering him a lifetime supply of KFC Famous Bowls® if he will don a bowl hairdo in the contest. What strange request! Do you think he will do it? I hope so....
6 responses

• United States
3 Apr 07
That is hysterical. The guy can't sing any better than the guy next door but he is becoming more famous than a winner of the show. He will probably make a fortune from all the exposure he is getting.

• Malaysia
3 Apr 07
You got to amid that that guy has got guts for what he is showing the world especially his hairdo...wonder when head & shoulder will jump on the wagon...

• Philippines
3 Apr 07
Oh yeah? I haven't heard about that, just now. But if its so, then i think he will do that as having a lifetime supply of KFC is not just a simple thing you know. But for me, Snajaya is not the only star in American Idol, no way! He is not a star, he is so boring and we dont like him no way! Sorry but i just wanna share my feelings, he doesnt deserves to be in top12 alright? But anyway, i am not just the only person who really feels this, there's also lots of people who's actually feels the same way as mine. Well i think, KFC should give that offer to other contestant "Great Contestant" like Melinda Doolittle and even to Blake! Cheers and Have a nice day ahead from Francis ®.


• United States
3 Apr 07
Sanjaya is starting to make American Idol a laughing stock. It is just so sad to see this when American Idol use to be a great show to watch. Sanjaya is already going to be one of the Idols that are on tour this summer, so let him off the show before everyone stops watching idol. Enough is enough. I know this is just my opinion, but come on..... he can't sing and isn't that what American Idol started off to be a competition for up coming singers.

• Canada
3 Apr 07
I am a Melinda fan and think that she has by far the best voice. Poor little Sanjaya is all I can think. He seems to be scared silly. He must have some talent somewhere or he wouldn't have made it to the finals. He sounds like Micheal Jackson to me, and I don't like Micheal Jackson's voice either, but it seems lots of people do. The thing about the public phoning in is a lot of the public have no taste and the teeny boppers with disposable income can vote over and over for a bubblegum teeny type star. Someone has to take Britney Spears place in the hearts of young girls and he is pretty cute. I don't really know if he will do the KFC thing but if he does he still doesn't have my vote, Melinda has the talent and deserves to win.

• India
3 Apr 07
Well i know sanjaya is not that great of a singer but i think he is not that bad either, agree that there are singers who are better than him on the show but are getting eliminated. but i think he has got that mass appeal, everybody loves to see the underdog succeed. as for the kfc's president offer goes i think he won't do it. And by the way being an Indian i am proud of him for his success on the show.