which animal do you like best?and share their lovely photoes...

China
April 3, 2007 8:01am CST
this year is golden piggy year...most people think a pig means stupid and acedia... and there are so many folksay about pig: such as : stupid pig, pig brain, you fat like a pig... which let most of us dont like pig... but on the other hand, pig symbolize wealthy and good lucky... ......all of us know , animals are the best friends for our human...and most people like some animal...some countries even use animal to as symbol, such as china's symbol is dragon... and most animals are so funny and interesting, such as rabbit , cat, horse... and what's animal do you like best , and share your reason why you like it... first for me...I like cat, of course and Lion... why I like cat, she is so lovely, and she can eat or drive away with terrible rat... for Lion, first for he is my avatar...in addition, he is the king of animal...which is fit for my amibition
2 responses

• Philippines
3 Apr 07
I think piggies are cute.. hehe I do love cute and cuddly animals, I know they are worth to be loved also in return especially the loyalty they give us.. I love dogs, my Joei even looks like a lion and he;s cute in his own way.. My dog doesn't sleep at night, he's nocturnal.. hehe He loves being cuddled and he's furry.. :)

• United States
3 Apr 07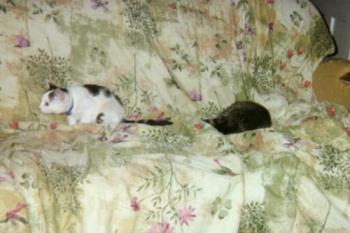 At the moment my favorite animal has to be the cat. There are many diffrent kinds of cats and they are all gracefull and very beautifull. Currently I have 2 7month old kittens who are a blast. They are so much fun to watch play and fun to play with. Here is a pic of them if you want to see.