Life after RETIREMENT????

India
April 3, 2007 8:43am CST
When a person retires from his job unlike village people, people who live in town, find it difficult to kill their time.They show little on reading news papers.They have to live with lot of butssss.... I suggest that they can engage gardening or else can do some home based part time jobs.They can earn money for their petty expenses.Have you got any ideas? please share it...
3 responses

• India
3 Apr 07
My parents are getting older now and as they weren't in any job through out their life , they are not expecting any retirement money lol . Recently my dad has retired from business , strange to digest but yes he has stopped constructing buildings as our family business was construction of aprtments and bunglows. My dad now kills his time by showing his interest in farming as he has built a new farm house and bought some more land around old field and farms. Even now he is asking me to leave my finance bsiness and join him for farming as it's showing good results withour much efforts.

• India
3 Apr 07
i dont have experience in this but i have seen a few people and i have heard many people feeling after retirement. i too some times wonder why it is like this because after we get aged we are out of buisness and we are not respected by the youngsters and we dont get that much cash also so it is a very hard time to face.

• India
12 May 07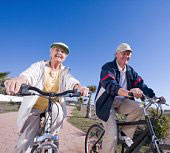 Studies show that high percentage of people die during their first year of retirement. One of the reasons being, psychological trauma. A sense of feeling that you're a worn out individual and should be placed in the corner of the house sitting idle most of the time. This period of life can be made fun and worth living to explore the unexplored. There may be times in your life when you wanted to learn to play golf or wanted to write a book on your experience and learning, or wanted to learn salsa. But your desires where never fulfilled, because you were too busy at work or family. This is the right time to explore your hidden talents and fulfill your deepest desires. Here are few ways to stay active and make money after retirement. Work is the important way of coping with the nagging worries. Physical activity: The best way to be healthy, independent and occupied is by doing some minor physical exercise such as walking and yoga. Get started with activities that will make you feel warm and breath deeply. It may not be some heavy stuff, but small things like walking whenever and wherever you can, taking the stairs instead of an elevator etc. You could also enroll in the neighbourhood yoga or laughter club. Being healthy will also help you be independent. Meet friends: Meet your old friends outside. There may be times when you missed out the most important events with your friend. Plan a picnic, as even he may be feeling lonely. Go out to play golf or any game you like. Gardening: Gardening is the best way to keep you occupied. This is also a great stress buster. Grow some flowers or vegetables in your garden. If you don't have a garden you can grow plants in a pot. You can even get the younger ones involved in this work. Decorate your house with these plants and flowers. Look how proud and contented you will feel. Help grandkids: If your grandkids are busy with homework and you have some time on your hands, why not help them with their work? Apart from homework, you can play with them, tell them stories, take them to the park etc. Thus you will gain a good listener and even build a healthy relationship. Go on a holiday: Go on a cruise with your partner. Visit a distant land, which you have always wanted to see. And remember there is no age bar for a second honeymoon. This is the age when you are alone most of the time with your partner, so make the best use of it. Discover those facets about each other left untouched and forgotten over the years. Volunteer: Be a volunteer to an NGO who deal with projects relating to the empowerment of women, child care or anything that draws your interest and is also of a major help to the society. Use your skills: You may be a businessman, a professional, or an accountant. Years of experience in that field will surely be of some help to the youngsters. Use your skills to train them. Start a course. This will fill your pockets and even finds you some work to keep going. Pen them: You may not be a celebrity to the world, but life must have taught you something, that you always wanted to pen down. So why don't you try it now? You have the leisure and even the patience too. This is the best opportunity, to tell the world what you feel. You may not win the Booker Prize, but maybe many can learn from your experience.. Join a course: Wasn't there a time when you badly wanted to learn to paint, sing or dance. Here the time has come. Join a course that interests you. Fulfill all your desires. Use your creativity to put forth your ideas. Let not age make you surrender to its oddities. Soar and fly. Begin your life anew in its own colours. Retirement is the respect given to your years of service. But if you don't want to sit and rest why not explore and say "here life I am back like a Phoenix. Ready to go." Live the life that you're worth living, afterall, 'Age is a state of the mind.'