Do you have the latest Microsoft Office 2007?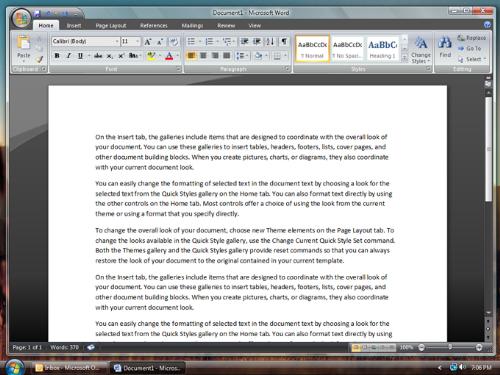 Philippines
April 3, 2007 11:19am CST
I don't have it yet but i like to have it soon as i've seen a lot of videos and demos about on how to use this latest Office 2007. You can really spice up your text with SmartArt graphics SmartArt graphics add color, shape, and emphasis to your text and data, and they're a snap to use. And also the icons and tools, are pretty cool. I'll get it one of this days! Here is the screen shot of what the latest Office 2007 looks like. Have a nice day from Francis.
7 responses


• Philippines
6 Oct 07
Cool!!! Thanks for the response

• India
3 Apr 07
Ya i have but it work as trial version because i have no 8 character key that is neccesory to register MS Office 2007...


• Philippines
3 Apr 07
Yeah it really looks good indeed and also the icons of it. I can't wait to have it soon. Thanks for the response!

• Singapore
17 Apr 07
I've not got it yet. I think it looks really cool. But i'm thinking of getting the student teacher version. I'm not too sure what the difference is though. I hope there's not much of a difference. - Lyn

• Philippines
16 Apr 07
i dont have it yet..but i have the converter to open office 2007 files..

• United States
3 Apr 07
I haven't seen the SmartArt graphics, but it sounds a lot like Word Art in the older MS Word. I have seen Office 07 in action, though, and I'm not all that fond of it. It is very nice aesthetically, but I don't really like the way the buttons and menus are arranged.

• India
7 Oct 07
No,I am yet to get it.But from what you are telling,it is sounding very Exciting to use.