Caramel Easter Egg Muffins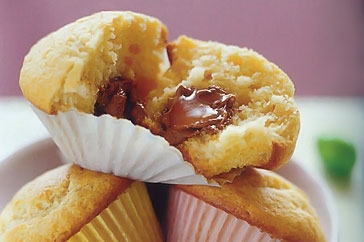 Australia
April 3, 2007 3:55pm CST
Makes 12 Ingredients 2 1/4 cups self-raising flour 2/3 cup caster sugar 125g butter, melted, cooled 3/4 cup milk 2 eggs 1 teaspoon vanilla essence 12 small caramel-filled Easter eggs Method Preheat oven to 180°C. Line a 12 x 1/3-cup capacity muffin pan with paper cases. Sift flour into a large bowl. Stir in sugar. Whisk butter, milk, eggs and vanilla essence together. Add butter mixture to dry ingredients. Use a wooden spoon to mix until just combined (don't over-mix or your muffins will be tough). Spoon batter into cases so each is one-third full. Place an unwrapped Easter egg into the middle of each muffin. Spoon over remaining muffin batter. Bake muffins for 18 to 20 minutes, or until light golden and cooked through. Stand in pan for 10 minutes before turning onto a wire rack to cool completely. Notes & tips Hint: Make sure you don't eat muffins while hot as the caramel inside the eggs will be very hot. When Easter eggs are not available, use Rolo chocolates or pieces of caramel-filled chocolate.
2 responses

• United States
3 Apr 07
these sound really good..i think i'll try them after Easter when the candy is on clearance..thanks for sharing the recipe

• United States
3 Apr 07
These sound really yummy. I wonder if you could use peanut butter eggs too. Just a thought. I already have Easter breakfast planned, but this is definitely a plan for the next week or so. I love recipes and this one looks easy to try. Thanks for sharing !