To shop or not to shop?!?!?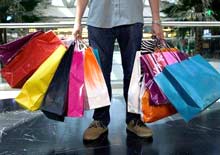 Philippines
April 3, 2007 8:24pm CST
I have noticed that whenever i go to the mall and i don't have enough money to go shopping, I wanted to buy a lot of stuffs and always say to myself, "I'm gonna buy those if have enough money on my savings."But when that time comes, i have the money and i have the whole day to shop, I don't know what to buy! I always compute. I'd rather save that money I have as long as I could. So i always end the day without buying something for myself. Do you feel the same? or are you an impulsive buyer?
2 responses

• United States
4 Apr 07
I am an impulsive buyer but I am also a bargain shopper. If I do save money to go shopping, I can never find anything I like. weird how that works, isn't it?

• Australia
4 Apr 07
Oh no I am not a compulsive buyer but I do save my money to buy something special for myself or do something special to treat myself it does make you feel good though when you can buy something for yourself especially when they are on special.