how much pocket money do you giveb your children?????????


India
April 4, 2007 3:31am CST
my 14 years old son alyays crible over pocket money... he says all kids get plenty of money to enjoy! is that true? how much do you give your child? i feel lots of money can spoil his habits so i give him sufficient money!
1 response

• India
5 Apr 07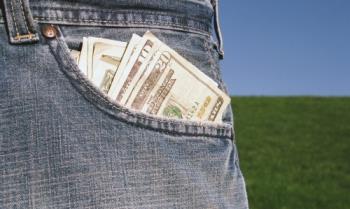 I have a nephew and he demands pocket monay . He is only 8 years onld now. He has learnt from his friends that taking pocket money is their right lol. I never give pocket money to my nephew and give him money only for his essetial needs. Yes, I agree with you that lot of money spoils childern and as they grow up they don't have importance of money .

• India
5 Apr 07
ya thats right......... they learn from their friends! so you just cant say no at times you have to compromise!

• India
24 Apr 07
Yes I agree with you that we have to compromise as they have learnt it from their friends. My mom has a very good idea for giving pocket money. For the daily chores they do... such as sweeping, vaccuming, dusting, wash indoor windows, empty trashes, etc, she gives 10 - 50 rs. a day depending how much they do. At the end of the week, she takes 10 percent into each child's savings. It can be for their birthday, Diwali or even school fund. HINT: For bad behavior, she takes a dollar away. It helped them understanding how important to do chores with proper attitude. It motivates them even more when they know by the end of the week they can spend on things they want. I may be over informed but thought it may help a bit. Wish you the best! THANKS FOR BEST RESPONSE .