Your wedding ring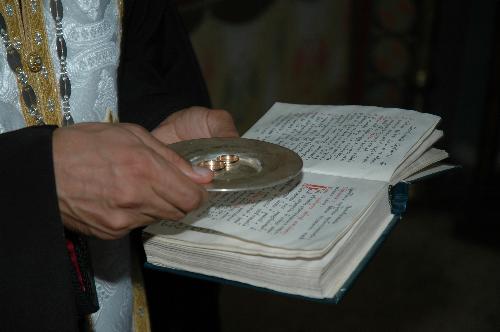 Canada
April 4, 2007 10:04am CST
What does your wedding ring look like? Did you partner buy it for you or did you purchase it together?My hubby and I bought our rings together. They are smooth, rather narrow golden rings. The special thing about them is that we ordered engravings inside the rings. It says "God save and keep me" in our native language. And what about your wedding rings?
7 responses

• United States
4 Apr 07
My husband has not yet given me ring as it is not part of our tradition. But he gave me a mangalsutra which is also not in our tradition but related to very close traditions.

• United States
4 Apr 07
mangalsutra is a gold necklace with black beads,that your husband puts that in your neck at the time of marriage. my husband gave me a beautiful gold ring with 5 diamonds on it on our wedding night in our own bedroom decorate with flowers and candels.

• United States
4 Apr 07
our first set of rings he bought mine which was golg with diamonds across the front. i had his hand made it was a silver ring made from a nutt. while i was pregnant he had to cut my ring off my finger so he decided to buy us matching silve bands. they are plain and also my favorite out of the two i have had. but i still have the gold ring.

• United States
4 Apr 07
My wedding rings are a heart-shaped diamond solitaire with a wrap that has three small diamonds on each side, making the whole thing resemble a flower. It's large enough that people go "oooh, is that a heart-shaped diamond?", but no so large that it interferes with housework and such. My husband's wedding band is a plain gold band that has "Guardian of my heart" inscribed inside. We selected our rings together, which is a good thing, because he'd have picked some big, clunky hideous thing that I'd have hated!

• Philippines
5 Apr 07
Our wedding rings were a gift from my husband's sister. We had it especially made for us. We were given the gold and we brought it to a jeweler who made it according to the design we specified. It's actually just a simple gold band with engravings inside. Engraved are our names, mine on his and his on mine, then the date of our wedding.

• United States
5 Apr 07
we bought our rings together...they are white gold with sapphires and diamonds..i love them...blue is our favorite color and sapphrires my favorite gem

• France
5 Apr 07
We made ours for each other. Mine is electrum with emeralds in it, his is silver with a ruby in it. Mine is a plain band, his is very ornate, with spirals and engraving all over it. I love knowing that he made my ring for me.

• Sri Lanka
5 Apr 07
My wedding band is in the shape of an octagun with two colour i.e. yellow and white gold. It was selected by my Husband. According to our tradition the bride should not see the wedding band prior to the wedding. It's cute and I like it. He has a real good taste in Jewellery