beautiful places in canada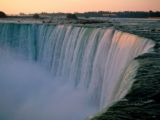 Philippines
April 4, 2007 11:24am CST
i have a relatives in canada they are now a canadian citizen,,,can anyone give me an idea how beautiful is canada...
3 responses

• Canada
4 Apr 07
I am Canadian. I love Canada. I think that Victoria BC is one of the greatest places on earth to live. Just yesterday I was feeling a little down, after work I took a short walk through town and went to the most beautiful park, Beacon Hill. The birds were singing. People were feeding the ducks and squirrels. A soccer game playing out on the field. Children laughing and playing on the swings. Something for everyone and all in downtown. The city is not overcrowded and the crime is low. The weather is great too. We have four seasons here and it never gets too hot or too cold. We have great shorelines and fantastic beaches. If we want to get away to the countryside it is just a short 20min. drive. I can't speak for the rest of the country but I can tell you that Vancouver Island on the west coast of Canada is a great place to live.

•
8 Apr 07
Sounds heavenly. I would like to mark this to be able to read it again another time. I would love to move to Canada. Do you still need private health insurance like in America. We have the National Health Service at the moment in England for which I am grateful.


• India
18 Apr 07
Ya there are so many beautiful places in Canada, one of them is Ottawa which is the capital of Canada, so many celebrations are going on every year