Walking can deter memory loss in the elderly.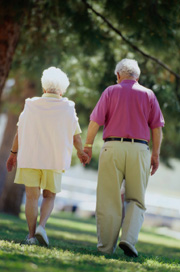 Philippines
April 4, 2007 10:37pm CST
Regular walks can reduce the risk of dementia among the elderly, according to the German Society for Gerontological Psychiatry and Psychotherapy in Neuss. Factors like high blood pressure, obesity, smoking and high alcohol consumption can increase the risk of medical dementia or speed up the brain's aging process. In addition, exercise helps reduce cholesterol levels, a risk factor in arteriosclerosis and brain damage. Exercises like walking, hiking and swimming, Nordic walking are also very good for the elderly and can also slow brain degradation in the early stages of disease.
No responses