Girl-Next-Door should be?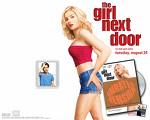 Philippines
April 5, 2007 7:54am CST
What xan you say about the characteristic of girlnextdoor to be?
3 responses

• Philippines
9 Apr 07
Girl next door? Devious. The kind of person who you cant be someone else, she just knows too much about you. The stereotypical ones are rated as demure, nice, well mannered, etc. etc. Sort of a Maria Clara type, but it could never be farther than the truth. The girl next door practically is either (from a man's point of view - this time just my own) the ones you don't want to be around with but somehow since she is your neighbor & your mom seem to adore here, their is just no escaping on this one & the other one, shes the girl whom you just cant seem to know very well despite the accessibility, a girl of your dreams sort of. For now, i just cant have any of those. Im not goin out.

•
6 Apr 07
girl next door its none other than elisha cuthbert i love her she is simply the best awesome gorgeous ll take ur breath away

• Nigeria
5 Apr 07
Girl-next-door: what about her? She is either bad or good, seemingly beautiful or ugly, pompous or humble, lousy or refined, snubbish or snobbish or patronizing, white or black or mixed, avoiding or avoided. If you are looking for convenience (in terms of easy and low cost of access) and show-off, go for girl next door, if she is your type and you are hers. Looking for secrecy and privacy? Don't try her.