what's under the kilt?Proud to be part Scottish offcolor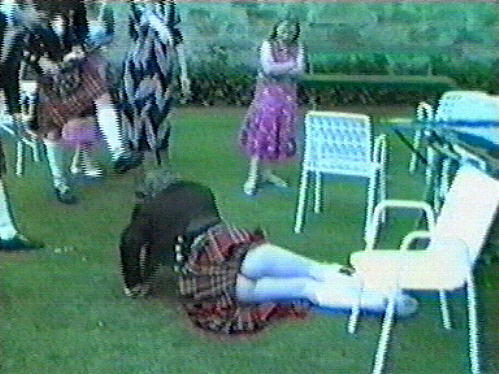 United States
April 5, 2007 5:36pm CST
We used to have Scottish games each year and I loved to go ...There was always a parade with handsome kilt wears..I've been told that most men do not wear anything under the kilt and although I've been around kilt wears alot I have never asked but recently I found out.I also have been told by my neighbor when he wears his that he has to be careful not to get p1ssed because ...well look at the photo...at a wedding...shouldn't have had that last one. Please rate photo Kilt video http://www.motion.tv/video/0000758d/under-the-kilt-video.html?catid=20&page=5 Then the sights are the Scottish games were very flamboyant http://www.flickr.com/photos/kiltedpride/133386001/And the parade was full of rosey sights http://www.flickr.com/photos/kiltedpride/131519879/
6 responses


• Canada
5 Apr 07
LOL! That video is hilarious!! I tried to view the first Flickr photo but it said it was a bad link so, maybe the link is wrong, but the one underneath is fine lol. I'm not Scottish but knew a Scottish guy who lived on the same street as me back when I lived in the UK. He invited me to a Burns Supper one year and so I decided to go along. I knew he'd be wearing his kilt and I was pretty excited about the whole tradition of the night. What I WASN'T prepared for was him flashing me when his wife left the room before we went! I don't think I've ever been so embarrassed in my life LOL. All I could do was stand and laugh. His wife gave me a VERY suspicious look when she came back in the room LOL.

• St. Catharines, Ontario
6 Apr 07
What I'd like to know is, how do they keep it from chafing? Wool is itchy-scratchy.

• United States
6 Apr 07
There was a program on in Britian call Doctor Who, well, its back on, but we are talking when the second Doctor was on, back in the mid-late '60's, there was a Scottish companion named Jamie. He wore a kilt, but the actor says he had soccer shorts on under, because he would go out & play during breaks in the filming. In the 1970's, another British program had another kid wearing a kilt, he also says he had on shorts under it, this show was The Tomorrow People. But I've known for years that true kilt wears wear nothing under them. As a female who HATES dresses, seems drafty to me.

• Canada
6 Apr 07
The video was funny. I couldn't see the middle picture it said it was a bad link but the second one was funny. A true scotsman wears nothing under their kilts. My son and daughter were in a pipes and drum band and they wore kilts. They wore something underneath though because they were kids still.