Table MANNERS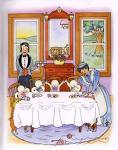 India
April 5, 2007 8:42pm CST
For long time i don't know what is the table manners.But yesterday i saw with my own eyes my family sat at the table for dinner.The dinner was served in plates when we about to enjoy the dinner one of my family members picked up a quarrel or you can call it unwanted quip uttered. In anger one person left the table without eating his dinner.The rest left left embrassing. One by one started leaving the table without enjoying their dinner. Have you ever faced such situation in your family?
3 responses

• United States
6 Apr 07
No I have not had this happen exactly however my kids have gotten mad (they are grown except for 1) and not come to the house because one of the others was here. I am sorry that this hppened to you and your family. I hope that the parties involved have talked things out by now. I think that the person who made the rude comment at the table used poor judgement in the timing of their remark...there was surely a better time and place than the table ...but it has happened now and I hope again that they have worked it out. Family diagreements are difficult for everyone because emotions are always strong. I hope the best for you and your family.

• United States
31 May 07
Thank you so much for awarding me with the "best response"...I appreciate it. I also hope that the problems from the table has been solved now and everyone is talking again...it is so difficult when some are not getting along with others in the family...it is just hard on everyone...

• India
6 Apr 07
Yes, this situations comes in everybody's life . We are also going through very bad time in family. My dad is 61 now and he has decided to give share to everybody in family's property. Now this is creating a lot of nonsens as we are three, two brothers and one sister. We also had something which you described 9 days ago when younger brother had fight with elder sister regarding some mom's jewellerys and first sister went off then brother. gradually mom and dad also didn't ate the food. Haii for your surprise I'm ate my food there only without getting disturbed by any of the acts.

• Canada
6 Apr 07
That happened once at a family birthday party when someone arrived late, and someone else took offense, and everything just went downhill from there.