A great anime! Anyone watched it? Likes? Dislikes?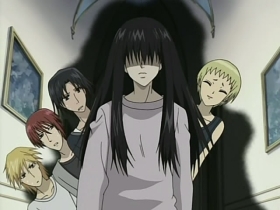 United States
April 6, 2007 3:39am CST
I've realized not too many people have heard of this great anime, "Yamato Nadeshiko Shichi Henge" I believe it translates to something like, "The Wallflower" I could be wrong about that though. It focuses around four guys attempting to turn a horror movie loving introverted young woman (who is slightly psychotic) into a proper lady. The four boys (dazzling creatures as they are called many times throughout the anime) live in a very nice house but will have triple the rent if they fail in their attempt at what seems impossible, but if they suceed the young woman's aunt who owns the house promised no more rent. The anime does seem a bit sloppy the characters turn into blobs quite often making it seem like the animation people just got a bit lazy. There are also lots of anime cliche's, mostly a lot of nosebleeds. If you haven't seen it you should check into it, and then let me know what you think. I've only seen up until episode 19 and all in Japanese with English subtitles but I still love the show, its an awesome storyline in my opinion, so enough of mine let me know your opinion.
6 responses

•
9 Mar 10
Although its scary... It rocks..LOL The had released a movie about that. Yamato Nadeshiko Drama. Look on it at youtube.com or other video site. Watch this and u will have awesome fun....I find this movie funny becoz of some good antics...lol

• Japan
9 Mar 10
Hi vnylyelah! The live action version of Yamato Nadeshiko Shichi Henge is being released now by TBS here at my country. Episode 8 was finished airing and now were on to Episode 9. It's really a good drama, I recommend you to watch it. Happy mylotting!

• Romania
11 Sep 10
This is one of my top 3 anime ever! I just love it for the way they make fun of society values and how they built the main characters so different yet completing each other so well.If you want my opinion, you should also read the manga and watch the live action. The manga has much more fun events. And what i like about the whole set: manga anime and live action is that the string of events is not the same in all 3. Some main events are, but the rest are kind of like spin-offs, making it much more enjoyable for the fans. It's one thing to see the same story and 3 different versions and another to see the same story line being completed with more fillers but also pushing the action further to the outcome we so much waited for : Kyohei and Sunako being togethr! I just love Kamenashi Kazuya as Kyohei. He played a fantastic part and, with the risk of giving an unwanted spoiler, I have to say he brings out a whole new face of the character. And the way he manages to kiss her using a skull is incredibly cute!! :)) I like the manga a lot, but it's kind of dragging the sction. The live action highlighted the main events and also gave us a partial outcome hooking up everyone . So I guess there will be no sequel for it, but it really quenched the thirst of the fans completely. So ....yes, the anime is worth seeing , really gets you addicted to the characters so I suggest you watch the rest too. Happy myloting!

• Philippines
10 Sep 10
Yes, I've watched them on our local tv station, subbed in our language. I liked it so much, I like how it can make you laugh, giggle and sometimes make you teary-eyed.

• Philippines
13 Oct 08
Yamato nadeshiko was shown here in our country few months ago and although it is way too different from the other anime, I still like it because it is really funny and weird.