Egypt - Dahab & Sinai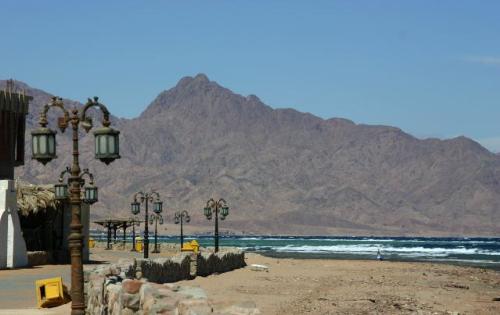 Italy
April 6, 2007 12:03pm CST
Dahab is a small beach resort one hour north of Sharm el-Sheikh, on the Sinai Peninsula. It's a growing town, but still small compared to the other resorts along the Red Sea. It's a good place to relax, ride camels with the Bedwin, and scuba dive. Note: I use "bedwin" and not "bedouin" because translation between scripts is not standard and "bedwin" better conveys the correct pronounciation. hope you enjoyed , please if you have additional informations about this topic you are welcome , Good Luck.
2 responses

• India
1 May 07
Characteristic of Dahab is a shore covered with fine golden sand that might have given Dahab its Arabic name "Gold".It consists of 2 bays.El Qura BAY and Ghazala BAy. NOw the area has developed into a tourist centre with camps, motels, restaurants and bazaars. the restaurants serve international and local cuisine at reasonable prices.Prices for accomodation are also very competetive.Due to the strong wind , Dahab is an excellent place for water sports and a perfect location for wind surfing.it is famous for its deceptive deep dive sites such as Blue HOle, the Canyon and the Lighthouse. The coral reefs along the sinai coaast line are considered as some of the best in the world.in the same time they are the closest tropical coral reefs to Europe.

• Italy
22 Apr 07
I was in Egypt a lot of years ago in Sharm. About your discussion I can tell you I made a trekking on the top of mount Sinai during the nigh. Starting at midningh and finish at 3.00 a.m. I was been there (at 8° celsius!) until the dawn. After I descending the opposite site of the mount for going to the Santa Caterina monastery. There, after breakfast under 40° (celsius) I made a visit to this monastery. I suggest you this experience.