how much time do you spend with your pc?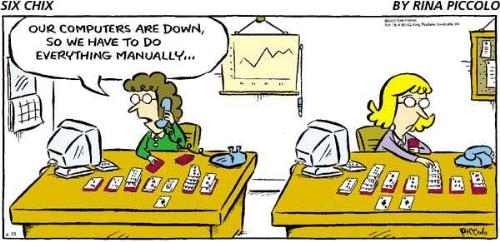 Philippines
6 responses


• Hong Kong
7 Apr 07
Oh I like your avatar, the girl is super cute! :) I spend most of my time on my computer if I am not reading my books or magazines, or going out. I would say around 7 hours maybe because I don't really watch TV. The reasons I spend so much time here because I have my website and my blog going and now I am getting addicted to mylot, they suck up most of my free time *laughs*, but I am happy and I got to learn a lot from all these projects and conversations too! Enjoy!


• Pakistan
7 Apr 07
My goodness! I do my job almost all the time at my computer as I work as a helpdesk manager. There is no time calculation after sitting at the desk. Well, if you are just asking for internet, ammm i guess its almost 2 hours a day. Sometimes not a single minute. Nice to see you again!


• Australia
7 Apr 07
Id have to say that on average i spend about 5 hours on the computer, on school days this is reduced, and also when i have work it means im limited with the amount of time im on the computer, if i have no other plans on the weekend, im probably on for at least 10 hours.