New Puppy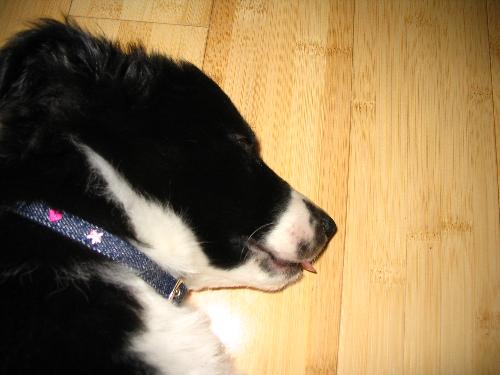 4 responses

• Canada
15 Apr 07
That's so cute! :) My Siberian, Summer, loves sleeping all twisted on her back with her feet in the air. It seems to be, quite literally, her favorite position to sleep in since you'll walk into a room and she'll be laying there like that, and you can come back 2 hours later, and she's in the same position. It's very cute. Doesn't seem comfortable to me, but then what do I know?.. she doesn't like sleeping surrounded by pillows like I do, either. :)

•
15 Apr 07
Thanks for this, I've noticed that my border collie sleeps in strange positions too, but I think that given the chance she would sleep on the bed, but that's not likely to happen. Look out for new posts about missy, she's growing quickly and I'm trying to get lots of photos of her, maybe even start a blog for her.

•
9 Apr 07
Awwww, I bet she looks really sweet. :) My in-laws had two dogs, 'Bobby' a cross bread (quite a large dog, sort of labrador sized) and 'Sally' a miniature poodle (so, quite small), their dog beds were sized to fit each one individually, but the little dog kept sleeping in the big dogs bed, so the big dog slept in the little dogs bed, when the little dog wasn't even there, the big dog STILL slept in the little dogs bed. Maybe it was more comfy, oh and my son used to like sleeping in the dogs bed too. Yes, I know, very strange indeed.

•
9 Apr 07
We've bought a bed that should be big enough for her when she's fully grown, not big enough for me though. She likes it and recognises it as her space, she picks up her toys and puts them in her bed when she doesn't want us to play with them. I can see that she will be ruling the house soon hehe.

•
8 Apr 07
Our cocker spaniel, Merlin, twitches in his dreams and sometimes this wakes him up howling. Luckily not very often but I wonder what has been chasing him in his dreams to make him so sad. It is strange to watch and I want to rush and hug him when he howls. Unless it is in the middle of our night though! Your puppy looks lovely. Share some more tales and photos with us sometimes.

•
9 Apr 07
Missy also twitches in her sleep, but hasn't woken up howling yet, lets hope she doesn't. She has a habit of biting the end of her tail and spinning round, not sure she knows its hers yet. Mor pictures will follow soon, I'll wait till she does something else funny before I post any more.