Per Minute Salary!!!! Of Mukesh Ambani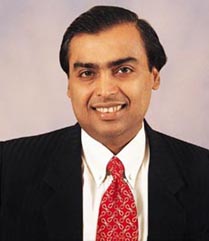 India
April 7, 2007 2:52pm CST
Name:Mukesh Ambani What:CMD of Reliance Industries Ltd How Much:Rs413 per minute Head honcho of the $16.5 billion Reliance Industries Ltd,Mukesh Ambani was ranked the world's 56th richest man in Forbe's list.But since this is only about the salary (and the like).we'll completely ignore his other earnings.Last year,Mr Ambani earned Rs21.72 crore;a neat growth of 87% over his previous year's earnings,He makes not less than Rs413 per minute!!!
4 responses

• India
9 Dec 07
Now he is the first richest man in the world so he rules the business world than the Bill Gates.Come on congrates him on this event in this discussion forum.


• India
16 May 07
ohhh thats so much of money!! i didnt know that....thanks for the info.

• India
8 Apr 07
21 crore is such a big sum of money for me... But this man is earning this much annually.. Sometimes i think wat anyone will do with that much money... Anyway good info.. Thank you..