how do i tell my son that his father has left us for good?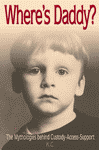 Philippines
April 8, 2007 12:50am CST
my 5-year old son has began asking questions about the whereabouts of his dad. being a single mom, parenting alone is hard enough, and when my son starts to ask questions, it is even harder for me as a parent. his dad left us about 2 yrs ago, and since then has never showed up. we were never married, and i have been solo from the very beginning in taking care of our baby. my son is growing so fast, and my fear is that i might not be able to explain things to him in a way that he would understand at his very young age. before when he asks where his dad is, i would tell him he's "wasted", like when the character in the game vice city dies, coz that's the only way i knew then to get the message across to my son that am sure he would understand. but now, it gets harder and harder to answer his questions, and truthfully at that.
5 responses

• Canada
8 Apr 07
Simply tell him that you don't know where his father is. We are having the same problem with my grandson who is 6. He wants to know what happened to his father(he's bi-polar, by the way, refuses any meds, and can get violent) We simply tell him that we don't know where he is, but we couldn't stay with him because his brain doesn't work right and he scared us.

• Philippines
8 Apr 07
i never thought of that. i am always in the habit of answering questions with a definite answer. but you're right, telling him the truth that i don't know his dad's whereabouts might be the best way to answer him. i'll do just that. thank you so much!


• Israel
8 Apr 07
TELL HIM THE TRUTH. The most difficult part that you will have to explain to him will be why you where not married to his father. I really feel sorry for such children whose mothers are unmarried mothers or single mothers, they just don't think that one day thier children will grow up and will ask about whereabouts of their father. Children like a complete family, where they have loving father as well as mother.Otherwise it effects them emtionally. They feel inferior to others.......I hope lots of young girls will ready your discussion and understand that tomorrow even they can face such problems. If girls want to live their life as per their own wish and don't want to bear responsibiites of marriage then for god sake don't bring innocent children in this world. I am sorry for being rude. But now I think you should very polietly and lovinly explain to your son about what has happened.If possible try to find out where his father is and may be he can come and visit his son. Make your son understand that you are his father as well as his mother.The sooner your son realises this the better it will be for both of you. And when your son will grow and will become matured, then he will be proud of his mother because she told him the truth and did not lie to him. Truth always wins. Keep taking care of your son and keep loving him , everything will be all right. God will help both of you. Be happy.

• United States
8 Apr 07
aww hun..im soo sorry you have to go threw this..I toohave this problem..but his father has never been around from day one..he wants no part of Skylar what so ever,,and it kills me..Sky will be 5 soon and hes too smart for his own good and the questions will start soon..so i am there..i think you should stick with what u have been saying for now and when hes older way lder like 16 - 18..then maybe u wil be bale to tell him the truth..

• United States
17 Dec 07
My little ones are on that same kick right now. My youngest (aka Biskit) knows what her dad looks like and when she WAS seeing him, he treated her like GOLD. I don't hate the man, but I get angry with him when she starts asking questions. She is 4 now and the questions are getting more detailed. At first, I told her daddy is just being silly. Now, I tell her that Mom and Dad don't get along like we used to. He stole a car and had to go to jail for it. And then I explain to her that when you lie, or steal or be mean to others, a judge can punish you by putting you in jail, so you can't do the fun stuff like we do as a family. She seems to be satisfied with just that. I didn't go into great detail but I let her know what is what. My other 3s' dad is in prison for rape of my neice. The youngest (6) was exposed to it when it happened. All he does is say my daddy touched Britney's* no-no and that's not right so he has to go to jail for a long time. I didn't tell him that, his dad did. I don't answer detailed questions, i just steer them in a different direction. Unfortunately, they have to learn the wrongs and rights on a personal level. Just be truthful, and never, never place blame on or near the children. Mine can't help that I found two losers out of life to have children with. They are wonderful ways to start people, and you gotta cherish the innocence. I'll be praying for you.